Description
EZVIZ 1080P Full HD 4 Channel Wifi NVR CS-X5C-4 APEC in Support All Ezviz wifi Camera and Onvif Camera – Best Price Sri Lanka – 2 Years warranty – Flexible and Easy to Use wifi NVR video recorder, Achieve Total Coverage, Quick Setup, High-Definition Video Playback, Works with Third-Party Cameras, Up to 6TB Local Storage, Easy Control and Management,1080P Full HD Recording
Flexible and Easy to Use
The X5C (ezNVR) is a wireless NVR with HDMI and VGA ports that supports up to 4 Wi-Fi cameras and conforms to ONVIF standards. It featuresstrong wall penetration and an enhanced Wi-Fi signal.

Achieve Total Coverage
The X5C (ezNVR) connects up to 4 Wi-Fi cameras so you can monitor different rooms simultaneously within multi-split screens. Enjoy complete coverage with no blind spots.

Quick Setup
The X5C (ezNVR) features "One-Key Access" setup for connecting multiple cameras quickly and easily and supports real-time statusmonitoring.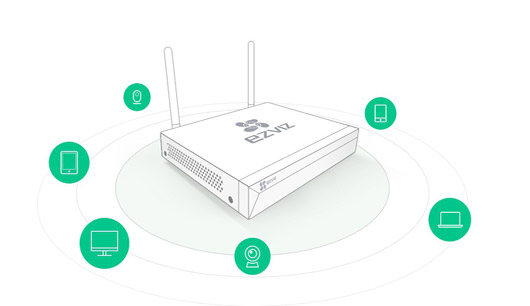 High-Definition Video Playback
The X5C (ezNVR) supports Full HD 1080p* live view and video playback, so you don't miss any details. (*720p default setting. Can be changed to 1080p manually.)

Works with Third-Party Cameras
The X5C (ezNVR) works with non-EZVIZ IP cameras that conform to third-party standards. Feel free to create your own unique security system now that you don't have to worry about compatibility.*

Up to 6TB Local Storage
Select from 1TB to 6TB built-in storage so that your videos can be stored locally and securely.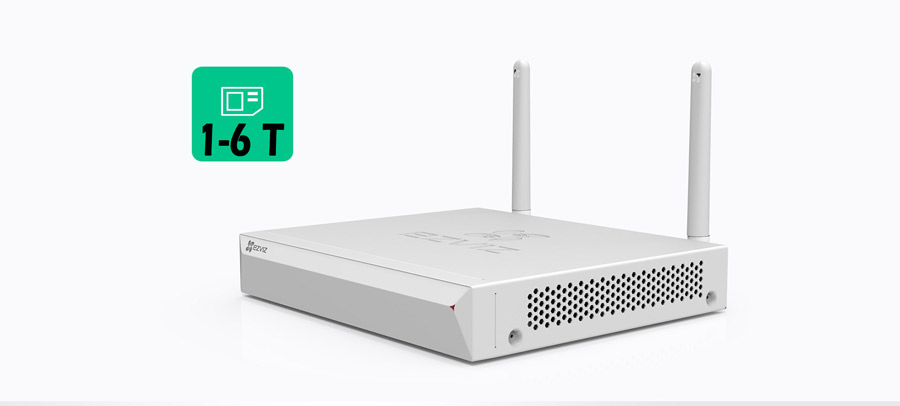 Easy Control and Management
With the EZVIZ app or EZVIZ Studio, you can remotely control the X5C (ezNVR) to playback video or view a live feed even when you're away from your home or shop.

EZVIZ 1080P Full HD 4 Channel Wifi NVR CS-X5C-4 APEC in Support All Ezviz wifi Camera and Onvif Camera – Best Price Sri Lanka – 2 Years warranty – Flexible and Easy to Use wifi NVR video recorder, Achieve Total Coverage, Quick Setup, High-Definition Video Playback, Works with Third-Party Cameras, Up to 6TB Local Storage, Easy Control and Management,1080P Full HD Recording
EZVIZ 1080P Full HD 4 Channel Wifi NVR CS-X5C-4 APEC in Support All Ezviz wifi Camera and Onvif Camera – Best Price Sri Lanka – 2 Years warranty – Flexible and Easy to Use wifi NVR video recorder, Achieve Total Coverage, Quick Setup, High-Definition Video Playback, Works with Third-Party Cameras, Up to 6TB Local Storage, Easy Control and Management,1080P Full HD Recording
EZVIZ 1080P Full HD 4 Channel Wifi NVR CS-X5C-4 APEC in Support All Ezviz wifi Camera and Onvif Camera – Best Price Sri Lanka – 2 Years warranty – Flexible and Easy to Use wifi NVR video recorder, Achieve Total Coverage, Quick Setup, High-Definition Video Playback, Works with Third-Party Cameras, Up to 6TB Local Storage, Easy Control and Management,1080P Full HD Recording
Tag: Flexible and Easy to Use wifi NVR video recorder, Achieve Total Coverage wifi NVR video recorder,, Quick Setup wifi NVR video recorder,, High-Definition Video Playback wifi NVR video recorder, Works with Third-Party Cameras wifi NVR video recorder, Up to 6TB Local Storage wifi NVR video recorder,, Easy Control and Management wifi NVR video recorder,, 1080P Full HD Recording wifi NVR video recorder