Description
The Best EZVIZ C6N 4MP Smart Wi-Fi Pan & Tilt H265 Indoor Security Camera – EZVIZ by HIKVISION |2K/4MP QHD Resolution Indoor Smart WiFi Baby/Pet Monitor Camera |Smart Night Vision |360 Visual Coverage |Motion Detection |Two-Way Talk |Micro SD Slot up to 256GB (C6N),White
Compatible with Amazon Alexa, Google Assistant and IFTTT
Introducing the EZVIZ Pan and Tilt camera – Imagine that you are at work and an intruder has come into your home – your Pan/Tilt Wi-Fi Smart Camera will alert you straight away with a message via the EZVIZ app to your smartphone, take a snapshot and even proceed to record the events and the suspicious activity. What's more, the camera will track and follow them too, gathering up as much footage as possible.
360-degree Pan/Tilt field of view with Automatic Motion Tracking

Fantastic 4MP Resolution for clear video detail

Secure the Interior of your home for peace of mind

Push notifications sent to your phone when motion is detected

View Live or Playback SHD footage at any time via the App

Smart Night Vision, up to 10m, 24/7 security indoors
EZVIZ C6N 4MP Smart Indoor Smart Security PT Cam, with Motion Tracking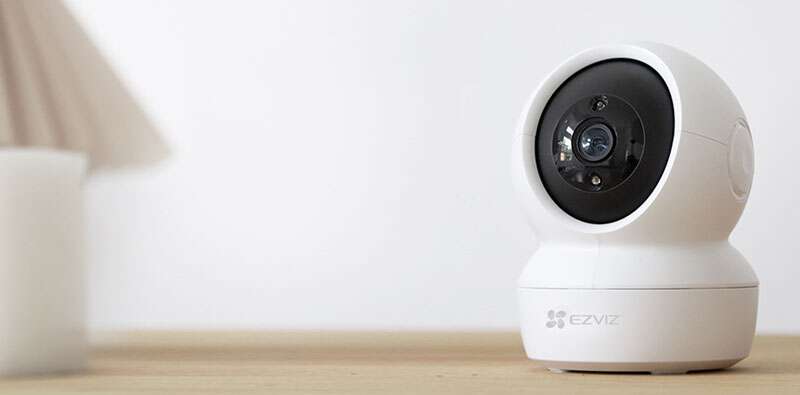 Smart Wi-Fi Pan & Tilt Camera.
Watch over your entire space easily with the C6N Camera's 360-degree field-of-view and its smart tracking feature. It's got you covered – all day & all night.

Records every corner in 2K resolution.
This powerful camera records images in 2K resolution, rendering crisp details even in 4x digital zoom, so you see everything clearly in live video and playback.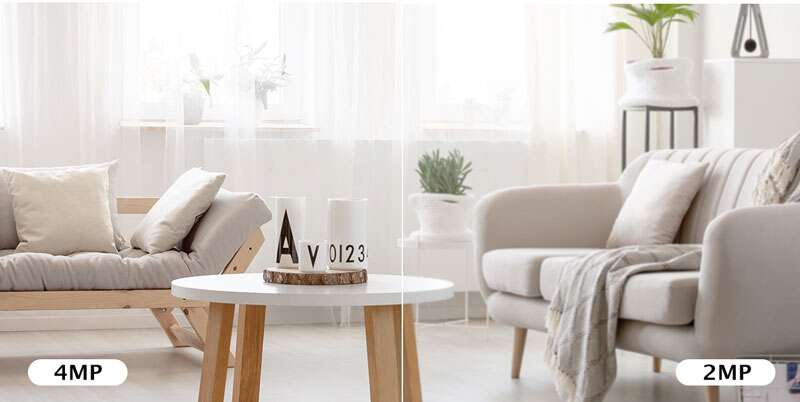 Zero blind spots.
Keep tabs on every corner with just one C6N. Its expansive 360-degree field-of-view ensures full coverage, so you don't miss a thing.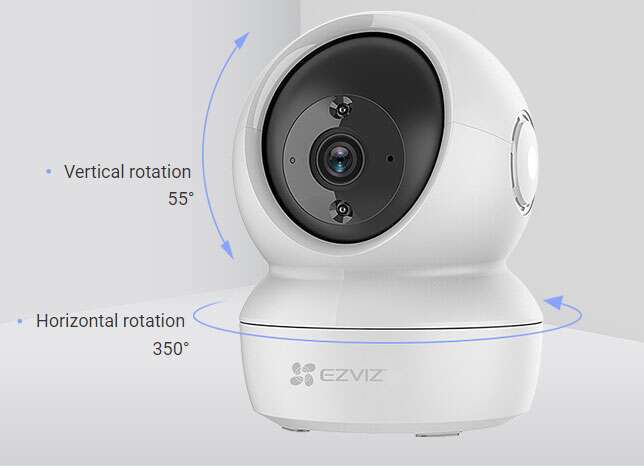 Smart tracking.
When it detects a moving object, the C6N is smart enough to automatically track its motion while alerting you with an image in real-time.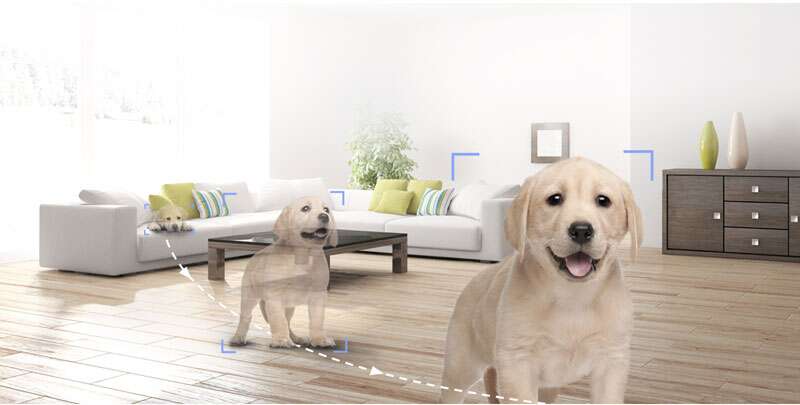 Communication, anytime.
Talk to your loved ones and deter unwelcome strangers – all by using the C6N's two-way communication feature. Using the EZVIZ App on your mobile device, you can easily and conveniently enjoy communication wherever you might be.

We protect your data and privacy.
Protecting your data and privacy is our highest priority. Data transmission between the camera and the EZVIZ Cloud is encrypted from end to end. Only you have the keys to decrypt your data. To get an extra layer of privacy protection, you can always enable the camera's sleep mode on the EZVIZ App.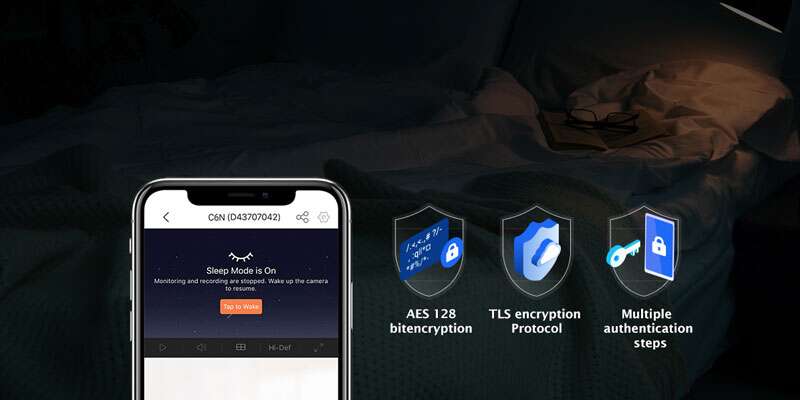 Next level Indoor Security – providing a stunning 4MP video resolution, you can capture every detail with crystal clear video footage. Smart Night Vision provides exceptional quality at night too meaning you have a reliable 24/7 security solution to protect your property.
Baby/Elderly/Pet Monitor – Great for monitoring your pets, little ones or elderly relatives. Furthermore, with the two-way talk, you can see, hear and speak all through the EZVIZ app, whether you are at home or away.
Pan/Tilt & Motion Tracking – With the 350-degree Horizontal, 55-degree vertical rotation Pan & Tilt feature, you can see everything in the room 360 degrees, keeping a lookout of the whole room. If it notices something like your pet or person, the camera will track the movement automatically across the room, providing the best footage possible. This can also be manually moved around via your EZVIZ smartphone app.
Be Informed – 

Motion Detection Alerts will trigger a notification to be sent to your smartphone via the EZVIZ app which brings attention to the event occurring from wherever you are.

Amazon Alexa & Google Home Compatible – 

Using the sound of your voice you can view live footage via your Amazon Alexa and Google Hub.

Two-way Talk – 

The internal microphone supports audio pickup within five meters and video recording with sound, meaning you can have a two-way conversation if needed via the EZVIZ app.

Easy Setup 

– For product setup simply follow the instructions via the EZVIZ app to connect it to your Wi-Fi and complete the setup process. Use the mount to place on a wall or ceiling if needed too.

App Features – 

With the EZVIZ app you can manage and view your camera live. In addition to this you can set schedules, create detection areas and review/share previous footage.

Save Bandwidth and Storage

 – Using the latest H.265 video compression technology, the C6N 4MP cam renders clearer and smoother video while reducing the need for data storage space and bandwidth.

Storage of footage –

 EZVIZ cameras can hold a MicroSD card (up to 256GB) for local storage upon each detection, or alternatively you can sign up to our Cloud Service (subject to subscription costs).
The Best EZVIZ C6N 4MP Smart Wi-Fi Pan & Tilt H265 Indoor Security Camera – EZVIZ by HIKVISION |2K/4MP QHD Resolution Indoor Smart WiFi Baby/Pet Monitor Camera |Smart Night Vision |360 Visual Coverage |Motion Detection |Two-Way Talk |Micro SD Slot up to 256GB (C6N),White
The Best EZVIZ C6N 4MP Smart Wi-Fi Pan & Tilt H265 Indoor Security Camera – EZVIZ by HIKVISION |2K/4MP QHD Resolution Indoor Smart WiFi Baby/Pet Monitor Camera |Smart Night Vision |360 Visual Coverage |Motion Detection |Two-Way Talk |Micro SD Slot up to 256GB (C6N),White
The Best EZVIZ C6N 4MP Smart Wi-Fi Pan & Tilt H265 Indoor Security Camera – EZVIZ by HIKVISION |2K/4MP QHD Resolution Indoor Smart WiFi Baby/Pet Monitor Camera |Smart Night Vision |360 Visual Coverage |Motion Detection |Two-Way Talk |Micro SD Slot up to 256GB (C6N),White
Tag: The Best wifi Camera, EZVIZ wifi Camera,C6N wifi Camera, 4MP wifi Camera, Smart wifi Camera,Wi-Fi Pan & Tilt wifi Camera,H265 wifi Camera,Indoor Security wifi Camera,EZVIZ wifi Camera, HIKVISION wifi Camera,2K wifi Camera, 4MP wifi Camera,QHD Resolution wifi Camera, Indoor Smart wifi Camera, Baby monitor wifi Camera,Pet Monitor wifi Camera, Smart Night Vision wifi Camera,360 Visual Coverage wifi Camera,Motion Detection wifi Camera,Two-Way Talk wifi Camera,Micro SD Slot up to 256GB wifi Camera,C6N wifi Camera,,White wifi Camera,